Foot Health
Foot pain is not normal and will not go away on its own. Podiatrists are uniquely qualified among medical professionals to treat the complex structure of the foot and ankle, based on their education, training and experience. They can diagnose illnesses, treat injuries and perform surgery affecting the foot, ankle and the lower extremities. They can provide guidance on proper athletic footwear, prescribe custom orthotics, and evaluate biomechanics.
Use the foot health information pages below (compiled from the APMA) to learn more common foot conditions and treatments. Contact an NYSPMA podiatrist today if you are experiencing foot pain or any foot health problems.
Arthritis
Diabetes & Cardiovascular Disease
Foot & Ankle Injuries
Infection Control
Muscle & Tendon Problems
Skin Disorders
Toe Joint & Nerve Disorders
Toenail Problems
Treatments
Tips For Helping Your Feet
Get advice on how to care for your feet. These helpful pointers are sure to keep you and your family in step with good foot health.

Many are aware of the risk factors of heart disease. However, fewer are aware that the blockages that can cause heart disease affect more than coronary arteries—they can also affect other arteries throughout your body. This condition is called vascular disease. Signs and symptoms for vascular disease often first appear in your feet.
Luckily, today's podiatrists are uniquely qualified among medical professionals to diagnose vascular disease based on their education, training, and experience.
Learn more about your risk for vascular disease with APMA's new "Podiatrists: First Responders For Vascular Disease" campaign.
If you have a suspicious spot on your foot or ankle and are at risk for vascular disease, make an appointment with podiatrist near you!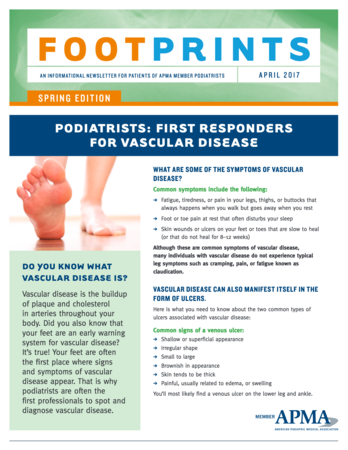 Identify your risk for vascular disease. Read more in the Footprints newsletter.
Featured Videos
According to a recent survey from the American Podiatric Medical Association, nearly eight in 10 adults have experienced some type of foot ailment in their lives. Yet despite the pain, close to three in 10 do nothing about it, simply choosing to live with their pain.
Don't let foot pain keep you from getting on your feet. NYSPMA expert podiatrists offer tips for how to care for your feet.
If you are experiencing persistent foot pain, find a podiatrist near you!